Successful Projects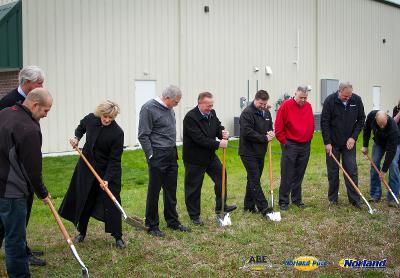 Norland International Continues Growth
LINCOLN, Nebraska—Norland International Inc. broke ground on its $1.25 million building on Wed., April 26, demonstrating its continued growth. The new 18,000 square foot warehouse will expand the Lincoln, Nebraska based corporation to just short of 90,000 square feet of space for manufacturing innovation.
To date, Norland Intl. has a total property investment of nearly $6 million. Norland Intl. was founded in 1993 to help water bottling companies in smaller communities achieve a competitve edge over larger water delievery companies.
Due to the rapid growth of the industry and the company's successful approach, Norland Intl. constructed its first 33,000 square foot building in 2004. Since then, Norland Intl. has been providing state-of-the-art water bottling equipment to entrepreneurs around the globe, helping start or expanding their own bottled water operations.
And growth didn't stop there. In late 2011, Norland Intl. made the strategic decision to design, manufacture and engineer craft beer production equipment leading to its next Division, American Beer Equipment (ABE). In a few short years, ABE has become an industry standard for innovation, quality and service to craft brewers around the world.
In 2013, Norland Intl. continued to drive company growth, by establishing its most recent Division, Norland Pure. Norland Pure is dedicated to delivering premium distilled and enhanced bottled water to Lincoln and surrounding areas with a key focus on customer service and support. Once again, in early 2016, industry demand propelled Norland Intl. to build a 28,000 square foot building for around $2 million for its second expansion.
"Our company has grown exponentially over the past several years and we continue to believe in the strong domestic and international economies. We believe in a strong midwest work ethic and we see this as a wise investment for the future," said Bruce Kucera, vice president of Norland Intl.
Starting with four managing partners almost 25 years ago, today the business is expanding to three buildings and more than 100 employees, and continues to grow.
Story and photo by Kate Bowling, creative marketing manager, Norland International.
Watch the official groundbreaking at Norland International (Intl.) held Wed., April 26, 2017.